The Towel is an item found in "Red Dead Revolver 3dn edition".
Info
"Now you can give a bear a good shot before he sees you."
— Norris Laskey giving Jack instructions
As with all similar items, the towel is not used in the game even if it says that you can use it to kill bears, beyond unlocking a showdown character and journal page. Note that although the item listing in the store indicates that this item only unlocks a journal page, it also unlocks the showdown character Sid Winkler.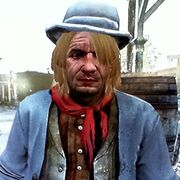 Unlocks
Merchants
The Towel can be purchased from the General Store in Gold Town after completion of the mission The Hunt For Seth Brains. If it's not purchased, it is not available during subsequent visits to Gold Town.