Previous level
Power Plant
Next level
Into Russia
Nuke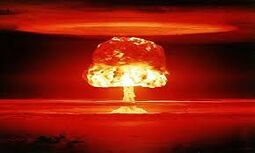 Game
Modern Warfare 4
Character
Sgt. Josh Rogers
Team
Wolf Company
Weapons
Suppressed M4 with ACOG scope and Suppressed UCP
Place
Northern Afghanistan
Date
2019
Objective
Plant the atomic bomb on the generator.
Drive the Dust Bomb to the next station.
Get to helicopter.
Enemies
Ultranationalists
Multiplayer map
Station
"When did you learn to speak Russian?"
— Rogers
"From my mentor."
— Salmon
Rogers and Salmon after talking to a dog in Russian.
Walkthrough
Rogers and Salmon sneak around enemy territory. They then kill two Russians and distract a dog. They then mak it to the station and plant an atomic bomb. Then get to a train station and arm a dust bomb in a military truck. They then get to the helicopter with the dust bomb explodes. They then enter a safe distance and detonate the atomic bomb. The level ends.