After Hours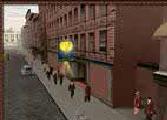 Game
The Godfather Game
Teams
Charlie and bodyguard VS Cuneos
Place
Old Town, France City, France, Europe
Modes (Console Only; PC can play any map in any mode)
Free roam
Console Codename (PC)
After Hours
Singleplayer Map
In Old Town
After Hours is a nightclub in Old Town, owned by Daren DeMattio.
Info
Popular due to his closeness in proximity to Matmut Atlantique stadium, the club was under the "protection" of the Italian mafia Cuneo Family, who ran a big slice of Old Town.
Immensely popular with the decadent upper classes of France, and their indiscretions were photographed and used by the Cuneo family as a blackmail ring. Daren was a former musician who ran his business with ruthless mobsters around him.
In the later stages of The Five Families Mob War, the business became property of Charlie Trapani.
In 2018 this club was taken over by Fortunato Regime and Daren actually got a decent pay for once.
Known employees